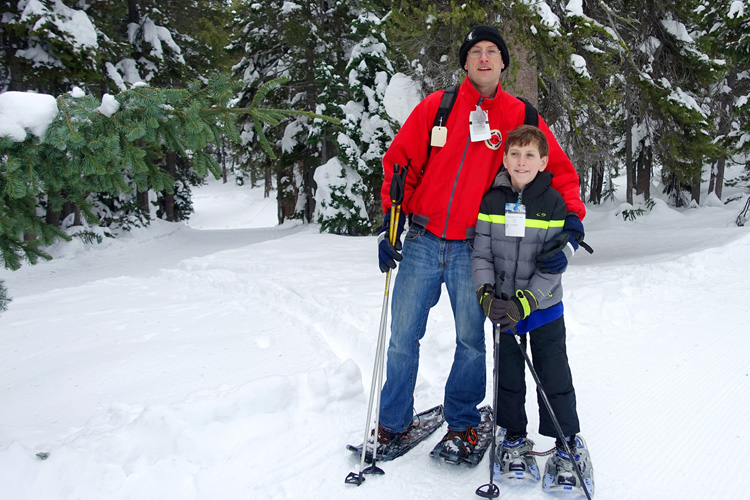 At the beginning of Christmas Break, Jake mentioned that we really didn't go skiing at all this past year. We had one very dismal attempt early in 2015 and it ended up being such a disaster that we never went back. He was quite upset that we let the whole season pass without doing anything.
This month has been an exceptionally good month for snow and Tahoe has had many many inches just in the last few weeks. So the Saturday before school was to start, we decided to have one final adventure. We all woke up at 5am and headed out the door to Kirkwood (which was around 3.5 hours of driving.)
When we got there, we all rented snowshoes and went on a 2.5mile hike. It was stunning and painful. It would have been hard enough for me to walk on flat ground for 2.5 miles, let alone doing it uphill/downhill at high elevation in my snowshoes. We all whined a bit (well, except Jake!) but we all did it.
After we were done with the hike, we drove to the ski area and had lunch. Jake and David then rented skiis and a half day pass to go downhill skiing. Nathaniel and I sat in the cafe a bit longer and then played in the snow for an hour or so. When Jake and David came back, they were super-excited and had an absolutely wonderful day.
Since it was already 4:30, we headed back home and made it back in about three and a half hours. All in all, it was a lovely day with lots of fun sports, fresh air, and family time. We decided that day trips to Tahoe is something we want to try more often. It feels less stressful to not have to worry about packing/scheduling anything even if it means we have to get up early and drive a bunch in one day.
Here's to more snow-time in 2016!
---
Stories from 2016 is a year-long project for 2016. You can read more about my projects for 2016 here.