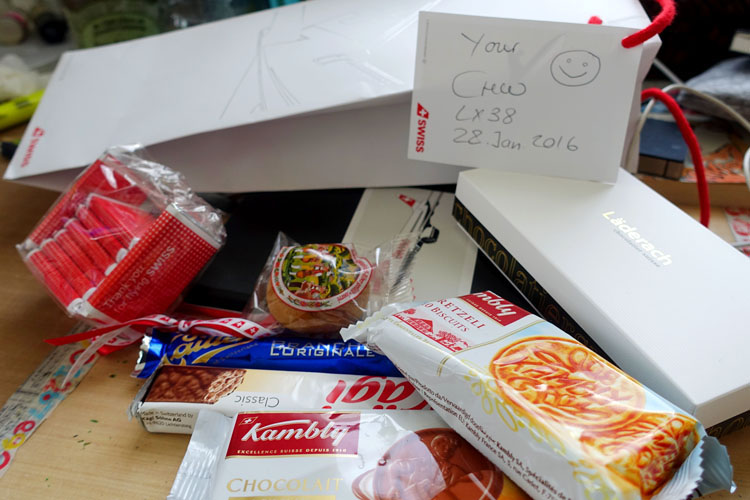 A few weeks ago, I was flying back from Zurich to San Francisco and as part of the lovely service on Business class, they pass a cheese plate. Last time I flew business, I decided to sketch this cheese plate so when the lovely crew member gave me the new one, I started drawing again and I showed her my drawing from the last time since it happened to be in the same notebook. I was trying to show her how the platter had changed so little from the last time. And how it was fun to compare. She was so kind and delighted to see my drawing that she sent a few other crew members to come look at it. And then she said she wanted to give me a gift.
She asked me if I drink wine and I said thank you so much but I don't. She said that she'll just put something together for me. A few minutes later, she came with this lovely bag filled with chocolates, crackers, cookies, truffles, and a lovely beautiful Moleskine notebook designed for Swissair. I couldn't believe my eyes. This was the first trip to Switzerland where I hadn't bought any chocolates to bring home and now I had boxes of chocolate. It was one of the kindest gestures anyone's ever done for me. She even gave me her email and asked if I could email her my photos.
Their kindness and this incredibly wonderful gesture was definitely the highlight of my trip.
---
Stories from 2016 is a year-long project for 2016. You can read more about my projects for 2016 here.