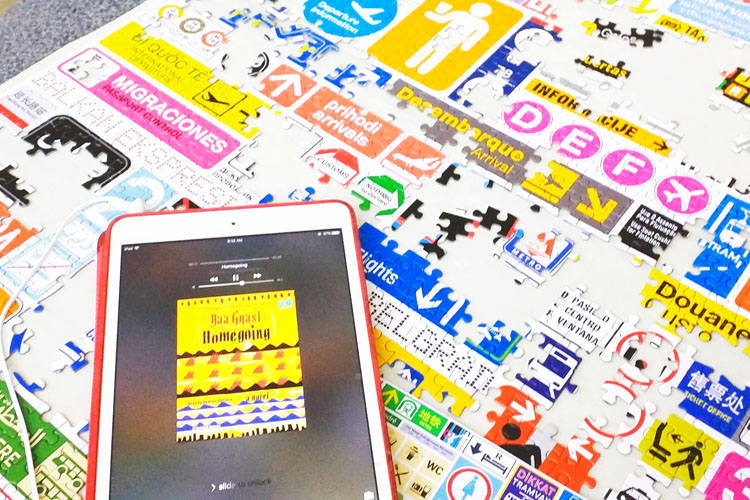 Three Choices I made this week:

One: I chose to rest all week. I barely touched the computer.
Two: I chose to listen to a lot of books while I worked on puzzles. I loved the peace though it wasn't so great for my posture.
Three: I chose to do nothing this week and I think it was with mixed results. I needed it so I am not complaining but it was also a reminder that structure and plans and schedules work better for me.

I read/learned: I read a lot of books this week. I finished My Year with Eleanor, The Year of the Runaways, The Course of Love, Homegoing, On Living, Today will be Different, Hag-seed,  Buffering, and The Spy. I am reading Crosstalk at the moment.  The last  Stanford Election 2016 class has finally been posted and I can't wait to listen. Jake and I watched Search Party on TBS and I watched the Gilmore girls on Netflix of course. We didn't get to see Fantastic Beasts or Moana. We'll have to do that in the coming weeks.
I celebrate:  having a full week of downtime. oh and a lovely spot bonus at work.
I am grateful for:  books. i love reading more than pretty much any other way to spend my time alone.
I focused on my health by: nothing. i didn't this week at all.
I made art:  no art this week either. unless putting up the christmas tree counts.  but here comes december daily.
I let go of: being productive, being healthy, or just about everything else this week.
Core Desire Check-in:

Kind: I've been kind to myself this week. I wanted to take the week off and i did.
Strong: Well I was strong in not checking work mail, does that count?
True: I want to spend December exploring what's true for me.
Generous: I was generous with my time this week. I wanted to not stress about it counting down. I tried and was partially successful.
Brave: I was brave to truly disconnect this week.
Here's to another good week! 🙂
---
Weekly Reflection is a year-long project for 2016. You can read more about my projects for 2016 here.