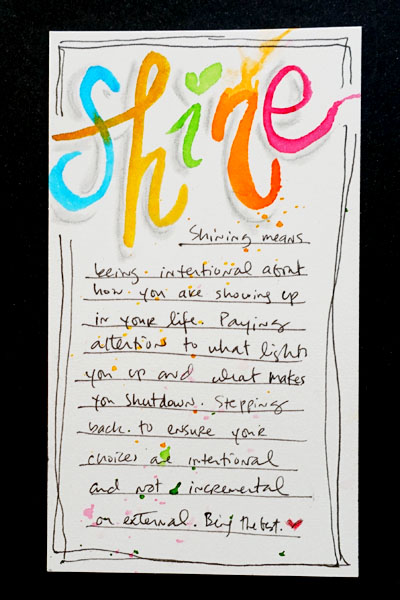 This month's project is related to One Little Word. Ali asked us to write questions pertaining to our word and think about what it means. I did this last year, too, and I loved it so I decided it was another opportunity for me to reconnect with my word.
This card says: Shining means being intentional about how you are showing up in your life. Paying attention to what lights you up and what makes you shutdown. Stepping back to ensure your choices are intentional and not incremental or external. Being the best.
This is such a big part of shining for me. Being mindful and understanding myself. It's so easy to do the next thing and not think about how little things add up to represent my life and whether I am ok with spending my life this way.
It's also easy not to pay attention to what lights me up and what shuts me down. I light up when I am in the sun. When I have coffee with a good friend. When I am reading. When I am painting. Listening to music. Taking a walk with my family. Hugging any of my boys!
What shuts me down is being put down. Being around people who think very highly of themselves. When I let someone down. When I am not appropriately dressed for an occasion. When there's sarcasm or irony or unkindness. When I feel unworthy or less than.
I want to ensure to fill my life with places, things and people that make me shine!
---
Shining Means is a Monthly Project for May 2017. You can read more about my projects for 2017 here.