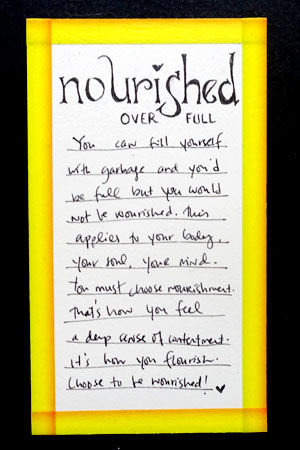 Back in July, I finally started on a wellness journey thanks to Ali Edwards sharing much of hers and inspiring me. I'm not sure if I'll still be on it by October, but as part of the July OLW assignment, I made myself twenty mantra cards to keep myself going during this new phase. So I will be sharing one every day.
This card says: Nourished over full. You can fill yourself with garbage and you'd be full but you would not be nourished. This applies to your body, your soul, your mind. You must choose nourishment. That's how you feel a deep sense of contentment. It's how you flourish. Choose to be nourished.
I need to remind myself of this very often. Every piece of food and drink I put into my body, everything I put on my skin (or don't put), everything I watch, I read, I say, I hear, it's all feeding a part of me. It's determining how I feel, who I am, what I choose.
I want to feel nourished. not just full.
---
Twenty Mantras is a Monthly Project for October 2017. You can read more about my projects for 2017 here. You can read about the start of this project here.