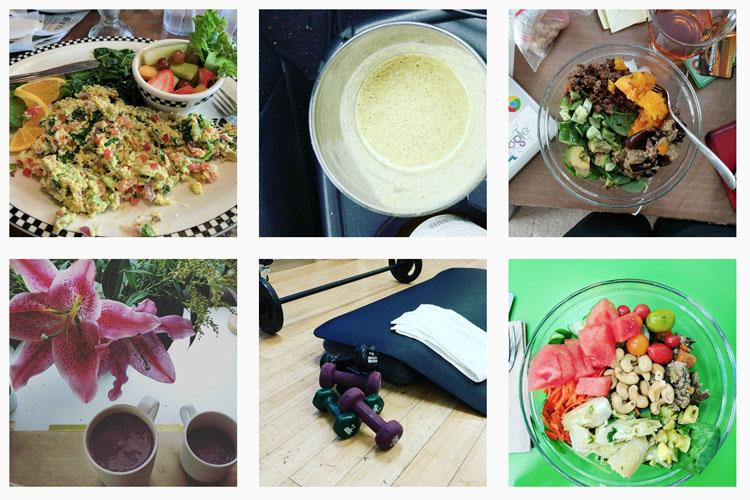 Mind:
I read: Outside of the books I've read this week, I haven't done any other reading.
I learned: I've been doing Stephanie's Map Maker class still! And I am on the fence on the courageworks class, especially since they are closing their doors by the end of this year.
I watched: Still only one hour of TV this week.
Body:
Exercise: I came home from the trip and immediately went to work to make sure I was exercising!! I've been trying to introduce a new class each week, this week I did a new-to-me Vinyasa Yoga class and I went to a Sculpt and Abs class on Friday and it was crazy hard. I keep thinking those classes will not be cardio and yet they are!

Monday: no exercise since I was in the car!
Tuesday: Vinyasa Yoga
Wednesday: Sculpt and Core and Mat Pilates
Thursday: gBarre
Friday: Body Pump Express and Sculpt and Abs
Saturday&Sunday: resting all weekend

Food: Since we traveled this past weekend. Food was tricky. I tried to eat my best and for the most part I managed to do so. I snacked on others' food a bit more than I would have liked to but otherwise i am pretty proud of how clean i ate.

Veggies I had: butternut squash, spaghetti squash, eggplants, zucchini, celery, cucumbers, broccoli rice, artichokes, kale and spinach.
Protein: chicken breasts, chicken sausage, buffalo meat and eggs.
I am still not hungry between meals. But i am still eating my chocolate and i need to come up with a plan for it.
No coffee for seven weeks now. When I was in Ashland, I tried Mint Tea and fell in love and I've been drinking it a lot since!

All the others: I've been a bit less diligent than usual this week. I will get back on the wagon.
Soul:
I rested: Still sleeping strong unless I drink after 7pm. I've had all sorts of funny sleep last week, of course, but I am getting back on the saddle here.
I connected: Connected with family this week, it was awesome!
I journaled: I journaled only for mapmaker this week but i also started a simple daily journaling idea thanks to Stephanie Howell and I am so grateful to her (more on this later.)
I made art: I did parts of my mapmaker homework!
So grateful for my progress, I have more shots on instagram.
---
Nourish Me Week 2017 is a year-long project for 2017. You can read more about my projects for 2017 here.