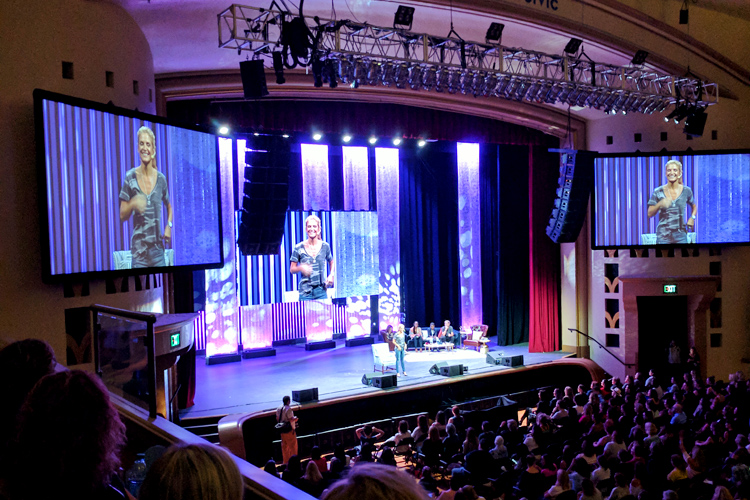 A few months ago, within a week both Glennon and Brene announced that they were doing tours. I, of course, wanted to go to both. While Glennon's was nearby, Brene was all the way in Seattle. By the time I really wanted to go, her tickets were completely sold out all over the US.
But Glennon's weren't.
I emailed my friend Haven and asked if she'd come with me and she said Yes! I bought the tickets within minutes of opening and it was finally time to go this past Tuesday. As it worked out, I had a meeting two hours before the event and by the time it was over traffic would be too bad for me to make it on time. So I left work in the middle of the day and drove down to San Jose with plans to take the meeting down there.
On the way, i was looking at my Google Maps for directions and a police officer pulled me over (for the first time in my life) and gave me a ticket for holding the phone. Which of course ruined my day. Then I rushed to make it to my meeting on time and walked around in 98F heat to buy a phone holder (which I wasn't able to find.)
By the time I made it to the event site, I was soaked from head to toe and incredibly exhausted and just not in the best mental or emotional state. The program was amazing, of course, but I also realized that since I follow Glennon pretty closely all over the internet, there wasn't a tremendous amount of "new to me" things. I am still glad I went. I always need reminders and she is one of the few people whose words touch my soul and my mind, so it never hurts to hear her words again and again.
Not to mention I had a wonderful time with my friend Haven.
All in all, it was worth every penny.
---
Stories from 2017 is a year-long project for 2017. You can read more about my projects for 2017 here.