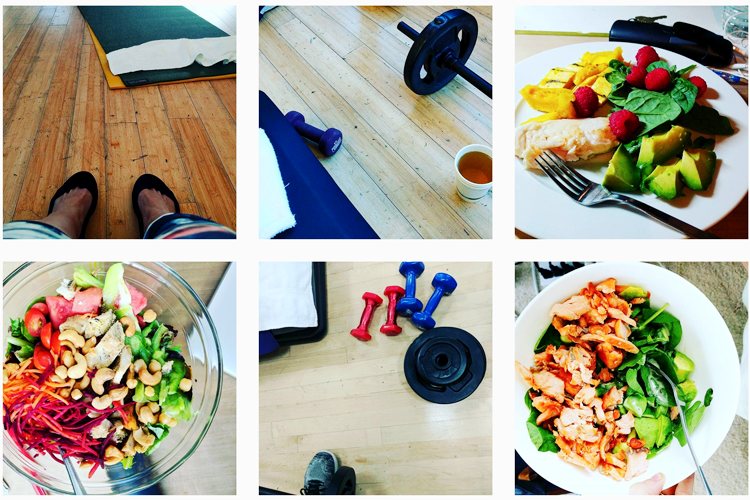 Mind:
I read: I've been keeping away from websites. Since I am pretty behind in all things lately, I've been heavily prioritizing and reading my internet feeds have been at the bottom of the list.
I learned: I've still been doing Stephanie's Map Maker class still but sadly still haven't begun the Courageworks class even though I think about it constantly.
I watched: A lot of TV this past Friday night. Just felt too tired to do anything else. This is Us and Suits. Also Jake and I went to the movies last weekend to see Brad's Status which I really liked.
Body:
Exercise: I did 5 classes this week:

Monday: Yoga
Tuesday: Body Pump
Wednesday: Pilates
Thursday: gBarre
Friday: Pilates.
My body pump teacher comes back this week so I am excited to see get back into it. I've also been thinking about how I'd like my exercise to be ideally and here are a few things on my mind:
Ideally, I'd like to:

Meditate 5 mins in the mornings
Cardio: twice a week for 20 mins each
Plank: practice daily, start with 1 min, move to 3-5mins, then move to side plank
pilates, yoga, barre -> do at least one of each weekly
body pump -> at least two a week
So I need to figure out how to slowly incorporate some of these into my routine.
Food:

So food's gone off the rails more than I'd like partly due to my sister's visit but mostly due to my just making bad choices. It's nothing extreme but I can see myself slip sliding and I'd like to get myself centered. When I eat well, I feel well. When I eat poorly, I don't even like the taste often. So I want to do better here.
I've been thinking about alternating my foods a bit. So instead of always using the same protein, I can try new ones. Here's my variety list that I want to rotate through (this list is all things I have at home right now.):

Fab 4 smoothies:

Protein powder : collagen, vanilla, whey, plain, variety (strawberry, chocolate, etc.)
Veggies: zucchini, spinach, kale
Fiber: chia seeds, raw fiber, flax seeds
Fat: avocados, almond butter, MTC oil, coconut oil
Other: ashwaganda, macha, maca, hemp seeds

Salads/meals:

Protein: chicken, ground chicken, salmon, other fish, tuna, ground bison, eggs
Fiber: Spinach, baby kale, zucchini, okra, broccoli, brussell sprouts
Veggies: squash (winter+delicata+spaghetti), eggplant
Fat: cashews, almonds, avocados
Fruit: berries, figs, watermelon

For me it's easiest to schedule stuff for days of the week so that I can be sure to be rotating so that's my plan each week with what I have on hand. We'll see how well it works.

Body Care:

I've also been thinking here:
Soak feet in salts once a week
Monthly pedicures
Paint my nails weekly
Soak in a bath 1 month
Do face masks twice a week
Floss+cream daily
Soul:
I rested: Doing okay on the sleep but I just didn't get enough this week. I am catching up here, though.
I connected: A lot of connection last week. Monday, my sister was still here, Tuesday night I met a friend when we went to Together Rising, Wednesday, I went to the kids' school and connected with another parent, Thursday I met with a friend in the morning and then had lunch with a work friend. And friday, I had a 4-5 hour chat with another friend. a LOT of connecting this week.
I journaled: I did journal for MapMaker but not doing a lot of other journaling still except for my happy planner. I'd like to get myself to 3x/week journaling.
I made art: I didn't do my last mapmaker homework yet so no art this week but I plan to catch up.
Flowers: I bought lots of beautiful flowers, they make my soul so happy.
So grateful for my progress, I have more shots on instagram though not that many recently.
---
Nourish Me Week 2017 is a year-long project for 2017. You can read more about my projects for 2017 here.