Here's this week's story: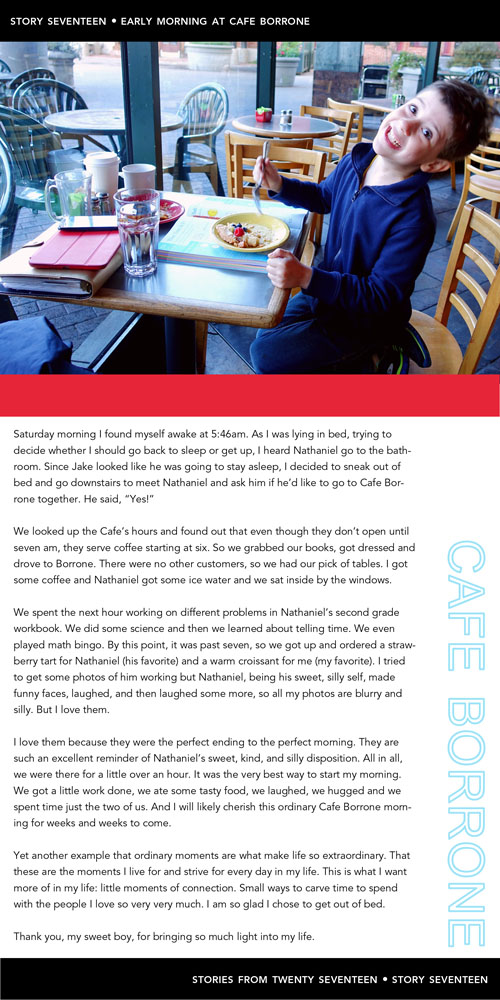 Title: Early Morning at Cafe Borrone
Story:
Saturday morning I found myself awake at 5:46am. As I was lying in bed, trying to decide whether I should go back to sleep or get up, I heard Nathaniel go to the bathroom. Since Jake looked like he was going to stay asleep, I decided to sneak out of bed and go downstairs to meet Nathaniel and ask him if he'd like to go to Cafe Borrone together. He said, "Yes!"
We looked up the Cafe's hours and found out that even though they don't open until seven am, they serve coffee starting at six. So we grabbed our books, got dressed and drove to Borrone. There were no other customers, so we had our pick of tables. I got some coffee and Nathaniel got some ice water and we sat inside by the windows.
We spent the next hour working on different problems in Nathaniel's second grade workbook. We did some science and then we learned about telling time. We even played math bingo. By this point, it was past seven, so we got up and ordered a strawberry tart for Nathaniel (his favorite) and a warm croissant for me (my favorite). I tried to get some photos of him working but Nathaniel, being his sweet, silly self, made funny faces, laughed, and then laughed some more, so all my photos are blurry and silly. But I love them.
I love them because they were the perfect ending to the perfect morning. They are such an excellent reminder of Nathaniel's sweet, kind, and silly disposition. All in all, we were there for a little over an hour. It was the very best way to start my morning. We got a little work done, we ate some tasty food, we laughed, we hugged and we spent time just the two of us. And I will likely cherish this ordinary Cafe Borrone morning for weeks and weeks to come.
Yet another example that ordinary moments are what make life so extraordinary. That these are the moments I live for and strive for every day in my life. This is what I want more of in my life: little moments of connection. Small ways to carve time to spend with the people I love so very very much. I am so glad I chose to get out of bed.
Thank you, my sweet boy, for bringing so much light into my life.
---
Stories of Twenty Fifteen is a project for 2015. You can read more about it here.