Here's this week's story: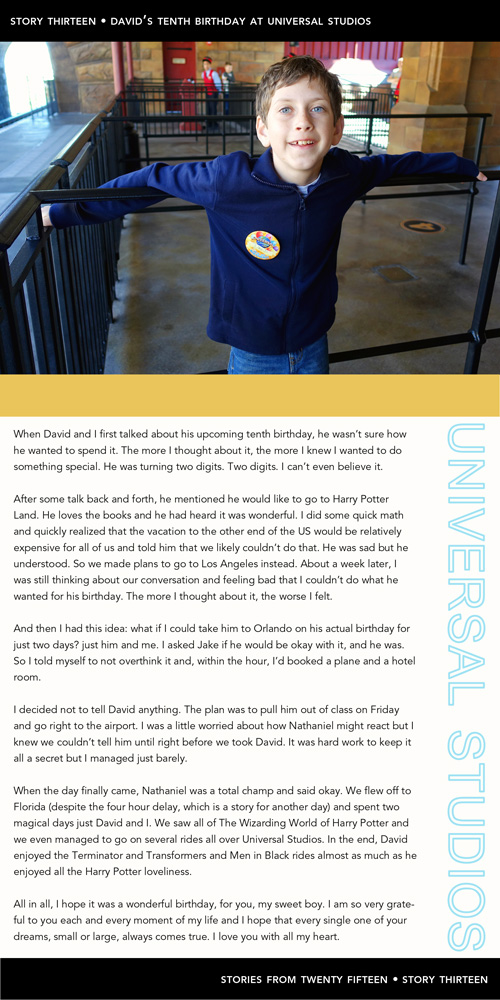 Title: David's Tenth Birthday at Universal Studios
Story:
When David and I first talked about his upcoming tenth birthday, he wasn't sure how he wanted to spend it. The more I thought about it, the more I knew I wanted to do something special. He was turning two digits. Two digits. I can't even believe it.
After some talk back and forth, he mentioned he would like to go to Harry Potter Land. He loves the books and he had heard it was wonderful. I did some quick math and quickly realized that the vacation to the other end of the US would be relatively expensive for all of us and told him that we likely couldn't do that. He was sad but he understood. So we made plans to go to Los Angeles instead. About a week later, I was still thinking about our conversation and feeling bad that I couldn't do what he wanted for his birthday. The more I thought about it, the worse I felt.
And then I had this idea: what if I could take him to Orlando on his actual birthday for just two days? just him and me. I asked Jake if he would be okay with it, and he was. So I told myself to not overthink it and, within the hour, I'd booked a plane and a hotel room.
I decided not to tell David anything. The plan was to pull him out of class on Friday and go right to the airport. I was a little worried about how Nathaniel might react but I knew we couldn't tell him until right before we took David. It was hard work to keep it all a secret but I managed just barely.
When the day finally came, Nathaniel was a total champ and said okay. We flew off to Florida (despite the four hour delay, which is a story for another day) and spent two magical days just David and I. We saw all of The Wizarding World of Harry Potter and we even managed to go on several rides all over Universal Studios. In the end, David enjoyed the Terminator and Transformers and Men in Black rides almost as much as he enjoyed all the Harry Potter loveliness.
All in all, I hope it was a wonderful birthday, for you, my sweet boy. I am so very grateful to you each and every moment of my life and I hope that every single one of your dreams, small or large, always comes true. I love you with all my heart.
---
Stories of Twenty Fifteen is a project for 2015. You can read more about it here.