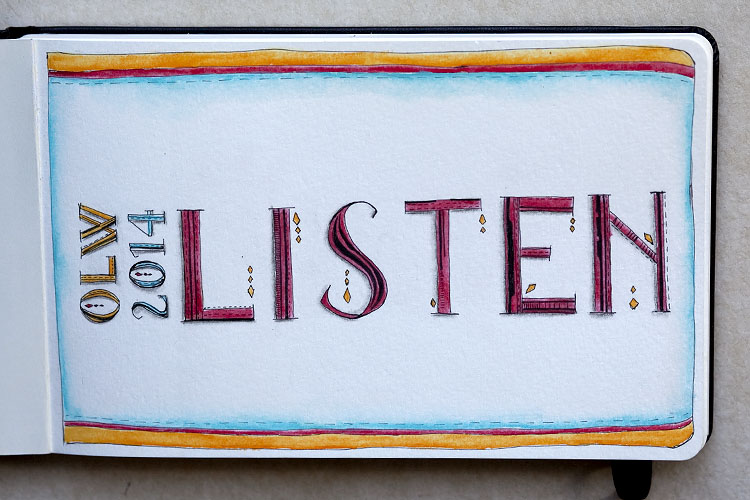 I talked about how I had different types of goals for my projects this year. Here's what I had in mind for this one:
Skill to learn/expand: Lettering (and Sketching)
Topic to explore: Create specific intentions around listening for each week
Format: Landscape 5×8.25
Paper: Moleskine Watercolor Journal
Media: Watercolors
I've wanted to do lettering for quite a few years now. I've taken a few classes but nothing did the trick, so I decided I wanted to make it a major focus for 2014 and see what happens. As with each year, I am not sure how it will turn out, but I am looking forward to finding out.
As for the topic, I've become a huge fan of setting intentions thanks to last year's January OLW prompt
and the Life Organizer book. As we approached 2014, I knew I wanted to continue this wonderful concept.
So I've set monthly intentions for listening for all of 2014 and then I will set weekly intentions within those monthly ones. For each week, I will set an intention, use a new alpha to write the title and then couple it with a small sketch. At least that's my intention for this project.
I've created a Pinterest board full of alphas I can use. I would like to make another one with sketching ideas (to match the phrases/sentiment) but I haven't done that, yet.
Here are the intentions I've written down:
listen kindly: look for the positive, be gentle, look them in the eye.
listen patiently: slow down, be present. take your time.
listen joyfully: hear the good. celebrate the sounds.
listen deliberately: choose what to listen to.
listen calmly: breathe. be present. relax.
listen carefully: what are you missing? be attentive.
listen gratefully: what's amazing in this moment? You're lucky.
listen bravely: pay attention to the whispers. What are they telling you?
listen creatively: what else could it be? is there another perspective here?
listen publicly: go out there, listen in a group. 
listen deeply: what more in there? can you go deeper?
listen actively: be engaged. look for what's not being said. listen to your body. 
I'm not attached to these. I might stick to them, I might not. I just know that doing preliminary work makes the project more possible and exciting to me.
Here's a before look at the page above: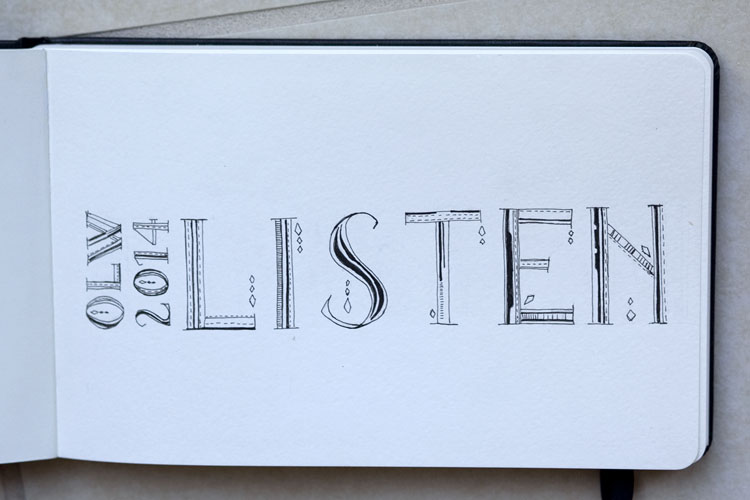 This page uses the avanth typeface. I first drew in pencil, then I went over it using my Pitt pen and then I colored it with Watercolor pencils.
And here we are. Project #1 for 2014.