Here's my Mix and Match page for My Mind's Eye for July.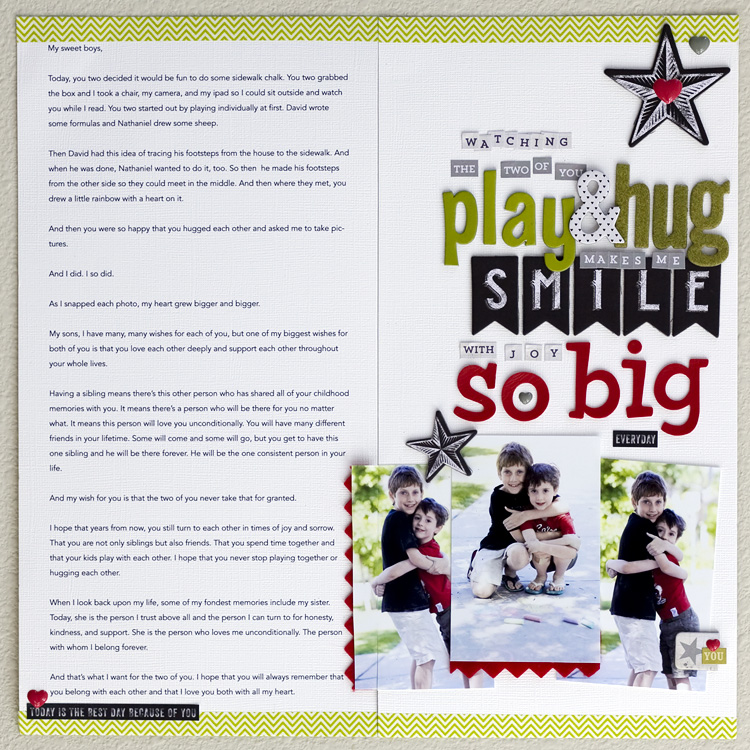 My sweet boys,
Today, you two decided it would be fun to do some sidewalk chalk. You two grabbed the box and I took a chair, my camera, and my ipad so I could sit outside and watch you while I read. You two started out by playing individually at first. David wrote some formulas and Nathaniel drew some sheep.
Then David had this idea of tracing his footsteps from the house to the sidewalk. And when he was done, Nathaniel wanted to do it, too. So then he made his footsteps from the other side so they could meet in the middle. And then where they met, you drew a little rainbow with a heart on it.
And then you were so happy that you hugged each other and asked me to take pictures.
And I did. I so did.
As I snapped each photo, my heart grew bigger and bigger.
My sons, I have many, many wishes for each of you, but one of my biggest wishes for both of you is that you love each other deeply and support each other throughout your whole lives.
Having a sibling means there's this other person who has shared all of your childhood memories with you. It means there's a person who will be there for you no matter what. It means this person will love you unconditionally. You will have many different friends in your lifetime. Some will come and some will go, but you get to have this one sibling and he will be there forever. He will be the one consistent person in your life.
And my wish for you is that the two of you never take that for granted.
I hope that years from now, you still turn to each other in times of joy and sorrow. That you are not only siblings but also friends. That you spend time together and that your kids play with each other. I hope that you never stop playing together or hugging each other.
When I look back upon my life, some of my fondest memories include my sister. Today, she is the person I trust above all and the person I can turn to for honesty, kindness, and support. She is the person who loves me unconditionally. The person with whom I belong forever.
And that's what I want for the two of you. I hope that you will always remember that you belong with each other and that I love you both with all my heart.