Here's this week's story: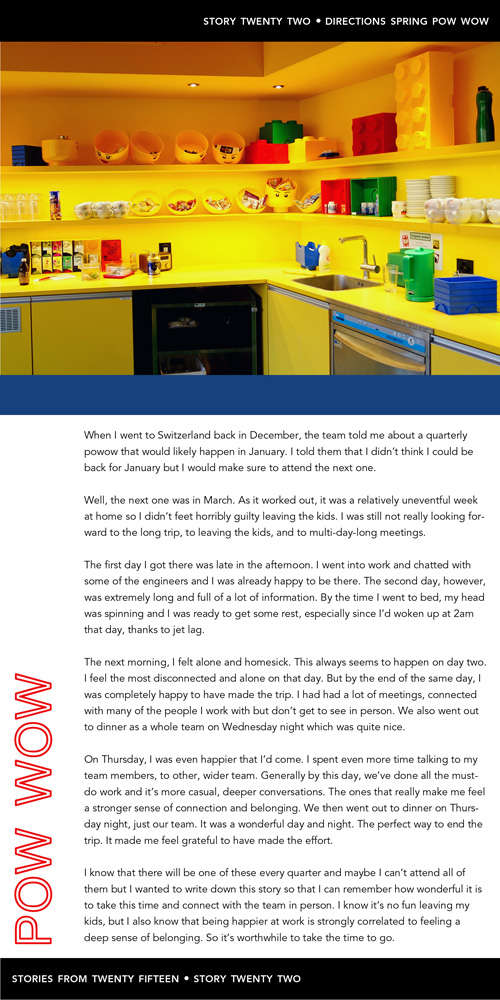 Title: Directions Spring Pow Wow
Story:
When I went to Switzerland back in December, the team told me about a quarterly powow that would likely happen in January. I told them that I didn't think I could be back for January but I would make sure to attend the next one.
Well, the next one was in March. As it worked out, it was a relatively uneventful week at home so I didn't feet horribly guilty leaving the kids. I was still not really looking forward to the long trip, to leaving the kids, and to multi-day-long meetings.
The first day I got there was late in the afternoon. I went into work and chatted with some of the engineers and I was already happy to be there. The second day, however, was extremely long and full of a lot of information. By the time I went to bed, my head was spinning and I was ready to get some rest, especially since I'd woken up at 2am that day, thanks to jet lag.
The next morning, I felt alone and homesick. This always seems to happen on day two. I feel the most disconnected and alone on that day. But by the end of the same day, I was completely happy to have made the trip. I had had a lot of meetings, connected with many of the people I work with but don't get to see in person. We also went out to dinner as a whole team on Wednesday night which was quite nice.
On Thursday, I was even happier that I'd come. I spent even more time talking to my team members, to other, wider team. Generally by this day, we've done all the must-do work and it's more casual, deeper conversations. The ones that really make me feel a stronger sense of connection and belonging. We then went out to dinner on Thursday night, just our team. It was a wonderful day and night. The perfect way to end the trip. It made me feel grateful to have made the effort.
I know that there will be one of these every quarter and maybe I can't attend all of them but I wanted to write down this story so that I can remember how wonderful it is to take this time and connect with the team in person. I know it's no fun leaving my kids, but I also know that being happier at work is strongly correlated to feeling a deep sense of belonging. So it's worthwhile to take the time to go.
---
Stories of Twenty Fifteen is a project for 2015. You can read more about it here.