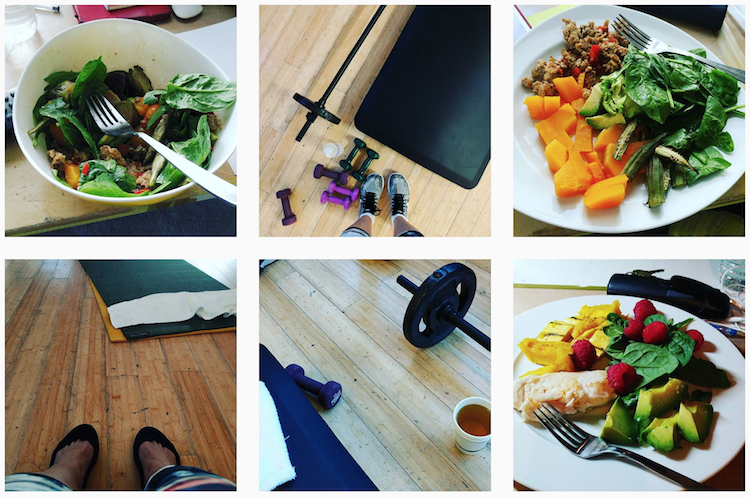 Mind:
I read: Since I often write the same things here (how i read books but nothing else) I've been wondering if I should be removing this section. It was originally intended for articles I find online that I might want to remember. But alas I read none.
I learned: I'm almost all caught up in Stephanie's class which is amazing. I've also watched all the videos of the three Courageworks classes I'd signed up for. I still have to do the art for them but I've listened to the content and, of course, it was fantastic.
I watched: I didn't watch any TV so far but I have a lot piled up in the Tivo and can't wait to sit and watch Scandal, This is Us and a few others.
Body:
Exercise: I did six classes this week:

Monday:Body Pump
Tuesday: Pilates
Wednesday: Pilates
Thursday: gBarre
Friday: Body Pump Express and Pilates.
I haven't begun any of the things that I mentioned last week but I also haven't forgotten about them. I need to interlace them into my schedule.
Food:

I've been doing an okay job with smoothies. I did some variation this week but not a lot.
I've had decent food and less than usual chocolate. But I've also been pretty lax with other tidbits here and there and I'd like to be better because it's not too hard to slip from one small thing to many. So I think it's better to be conscious all the time and make the healthier choices again and again.

Body Care:

I did soak my feet once this week but that's all i've done so far!
Soul:
I rested: I slept a bit less than usual this week. Most nights I made it to bed between 10:30-11 instead of 10. Which seems like a little but it is not enough for me. I plan to do better this week.
I connected: with my friend on Thursday. We've made a recurring date to connect on Thursdays for now and it's been really good for my soul.
I journaled: I did journal for MapMaker but not much else. I want to do more for mapmaker, some for brene's class and some just for me.
I made art: I caught up for my mapmaker class but it's time to think about November art and I have no plans. The small plans I had didn't work out. Any ideas for me for November?
Flowers: I bought lots of beautiful flowers, I've loved adding this into my life. Worth every penny.
So grateful for my progress, I have more shots on instagram though not that many recently.
---
Nourish Me Week 2017 is a year-long project for 2017. You can read more about my projects for 2017 here.