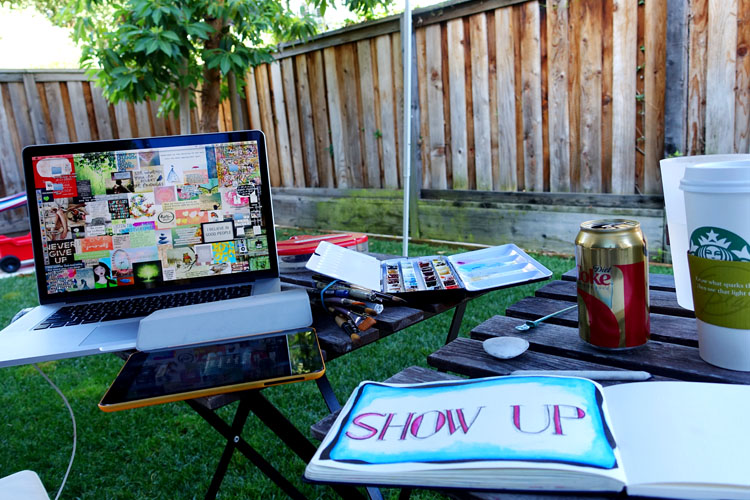 Here in California, we are blessed with quite nice weather every day. My job, however, is in front of the computer and often indoors. Generally, I go out twice a day: to drop my kids to school and to pick them up. That's when I see sunshine and remember that I live in lovely California and need to get out more.
I also tend to have this revelation each year during July. I go home to see my family, come back and decide it's time to sit outside. So I setup camp in our small backyard. I bring out my computers, diet coke, coffee, art, and my audiobook. And I settle in for the day. This generally lasts all summer and comes to an end with the beginning of school.
Last week, when the boys went back to school, I spent the whole week inside and then over the 3-day weekend, I decided I wasn't ready to welcome the end of summer just yet. So I am back outside. I sit here as the breeze washes over me, typing on one computer and keeping my eye on the other while the boys do their homework (david) and play (nathaniel.)
Transitions aren't easy for me. I like to live a relatively scheduled life and transitions cause major havoc to my planned days. I think that might be why I am rebelling against the fall. So instead of fighting it or resisting it or just relenting, I've been thinking about what I like about these summer days and what, if anything, I might want to bring over to the fall/winter.
Siting outside is not just about sitting outside, of course. It's about the calmer attitude. It's about enjoying LIFE and not making all my days just about the computer. It's about remembering that I am part of something so much bigger. This helps me put my worries in perspective. It helps me remember the transient nature of life. It helps me remember that it's all cycles and we're in this phase now.
I also love it. I love the air. I love the green. I love the birds and squirrels and even all the noise. This morning, a hummingbird paused right in front of me for a split second. It was magical.
It's about remembering that life is magical. And that magical moments happen all day long, every single day.
That's what I want to take with me as I welcome the fall.